Famous Corten Steel Star Dancers Sculpture Outdoor Decor for Sale CSS-321
The corten steel sculpture is for hot sale in our factory. In recent years, corten steel sculptures have become very popular, and many people buy them for decoration on outdoor grass. If you need this exquisite sculpture, please contact us for a price.
Item No: CSS-321
Size: Customized Size
About: Modern Metal Sculpture
Type: Modern Corten Steel Sculpture
Material: Super corten steel
Package: Strong Wooden Case
Service: Customized Service
Insurance: Cover all the risks
Send Messages
Get price
---
Statue Introduction
This corten steel sculpture is Dale Rogers' creation, Star Dancers. It is welded with corten steel and eliminates the need for painting, then it could form a stable rust-like appearance if exposed to the weather for several years. The sculpture consists of two simple dancing figures that together hold a shining star. From a distance, we could also see the pattern of smiling faces. This sculpture work has been widely welcomed by the public.
The Popularity of Corten Steel Sculpture
Stainless steel and corten steel are the metals he chooses to work with. The stainless steel material is beautiful and versatile, what's more, the surface of it could be done in many different finishes. The variations add dimension and depth to the different sculptures. The corten is chosen for its "long life and low maintenance" reputation. Corten steel oxidizes over time and then seals itself. It offers an organic and simple element to the sculptures while the stainless steel brings in a little more pizzazz and punch.
Advantages of Corten Steel Sculpture
There are many advantages to corten steel sculptures. First of all, a corten steel sculpture could form a protective rust layer on its surface under long-term exposure to the sun. Thus it could prevent the entry of corrosive media and then protects the sculpture. Secondly, its atmospheric corrosion resistance is very strong, and the longer it is used, the more prominent the role of weathering. In addition, corten steel also has excellent mechanical, welding, and other properties. Since corten steel could be used directly in most environments without surface protection treatment such as painting, they have been a hot sale in areas with an extreme climate, especially in desert areas.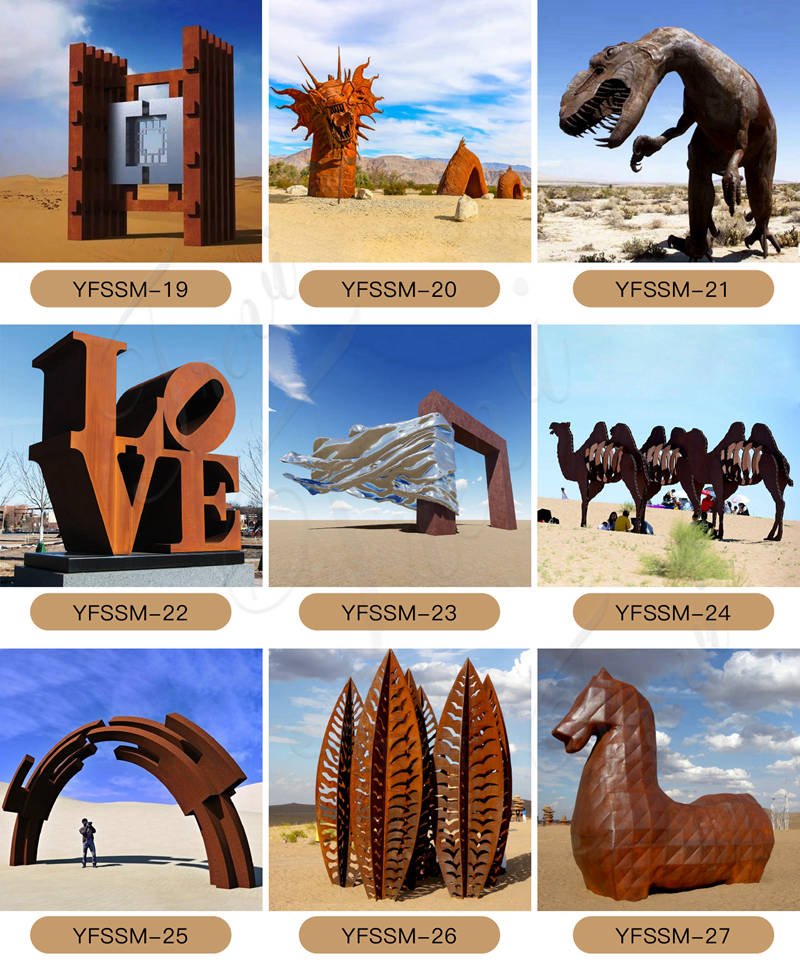 Customized Service
Our factory could produce all types of corten steel sculptures for our customers. Not only do we have highly skilled sculptures welded into top masters, but we also have a professional design team. Our team could customize the sculpture according to the customer's requirements of color, size, and shape to satisfy the customer. It is worth mentioning that we have cooperated with many internationally famous artists, you could customize your favorite famous or classic sculptures in our factory, and our artists would reproduce your desired works 1:1.
If you want to know more about our sculptures. Please contact us online or by phone, we would serve you with our heart and help you to create your favorite sculpture products.