Large Metal Saguaro Cactus Sculpture Original Design CSS-857
This large metal outdoor cactus sculpture is an original design by Trevi. We have many original and beautiful sculptures waiting for you to choose from.
Item No: CSS-857
Material: 304/316/316L Stainless Steel Material
Type: Stainless Steel Plant Sculpture
Service: Customized Service
Advantage: Factory Direct
Package: Strong Wooden Case
Insurance: Cover all the risks
Send Messages
Get price
---
Details of Metal Cactus Sculpture
This large metal outdoor cactus sculpture is welded with high-quality 304 stainless steel material. Our designers carefully created this mirrored metal plant sculpture, which our customers universally recognized. This metal saguaro cactus sculpture simulates the form of a real cactus and is composed of two cacti of different sizes. The pair of cactus sculptures are mirrored to reflect the surrounding scenery and look very beautiful.
More Designs for Metal Sculptures
Trevi is a supplier of innovative sculptural artwork and design, regularly innovating sculptural shapes to meet the diverse needs of our clients, with a dedicated design team and designers with a wide range of design skills, supporting hand drawing, 3D rendering, 3D printing technology and more. So we could place your favorite sculpture in a virtual scene to simulate the real placement effect. If you have any favorite type of sculpture, you could also contact us for drawing design, or we could even print a small model for you for your reference.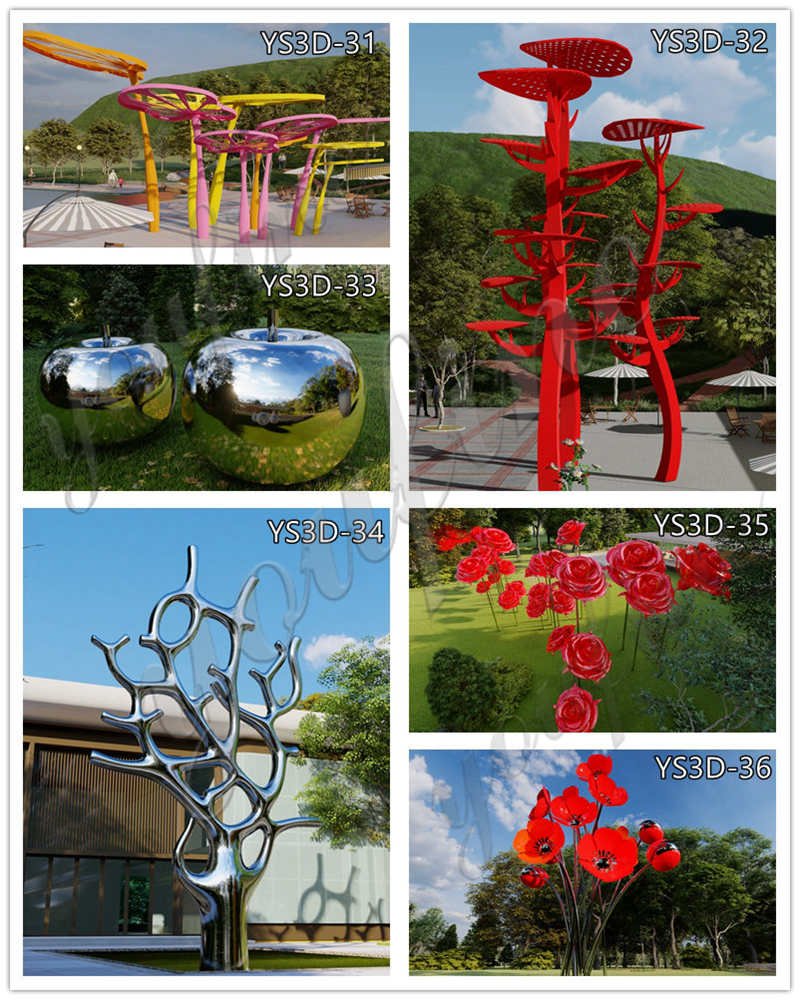 Strong Package
Trevi pays great attention to the quality of the sculptures and the customer experience, and Trevi's service does not stop until the customer is satisfied. On the one hand, our QC members would check and confirm the finished sculptures. Only sculptures that meet customer requirements could be packaged and shipped. On the other hand, our packaging measures are above the industry standard:
We wrap the sculptures in thick sponge and plastic foam layers.
The thickness of the wooden box for packaging needs to be more than 3cm to be used.
We purchase full insurance for each sculpture, and the insurance company would compensate the customer's loss in case of uncontrollable risks.
Trevi's Sculpture Art Atmosphere
Trevi is a stainless steel sculpture supplier with 40 years of experience. For decades, we have insisted on casting artworks with craftsmanship to create the leading sculpture-making brand in the world. Our team is a complete, professional team, including sculpture recommendation, design, production, and QC departments. The partners in each department are all in line with Trevi's team spirit and are all pursuers of the art of sculpture. Only people who love sculpture could create the best quality artwork with their heart and soul, and Trevi aims to export good quality and affordable sculptures to all corners of the world and into thousands of homes.
If you are interested in Trevi's sculpture and team culture, please get in touch with Trevi for more stories and insights about sculpture. We believe we could be a good partner.