Abstract Large Metal Sculptures for Public Park Stainless Steel Sculpture Factory CSS-220
This abstract large metal sculpture for public park is made of high-quality 304 stainless steel. If you are looking for beautiful decorations for the outdoor public parks, large gardens, city streets, office buildings, or gardens in your own house, it is the best choice.
Item No: CSS-200
Material: 304/316 Stainless Steel
Surface: High Polished
Technique: Welding, Polished
Application: House/Villa/Garden/Parks
Service 1: Customized Service
Service 2: Foundry Supplying Directly
Send Messages
Get price
---
Abstract Large Metal Sculptures Details:
Very beautiful abstract large metal sculpture design, this sculpture is an abstract art form composed of irregular and closed loops. The complete and closed line is very much like a beautiful flower. Of course, different people have different ideas.
Use High-Quality Metal Materials:
This abstract large metal sculpture for a public park is made of high-quality 304 stainless steel. Our selection and use of raw materials will go through strict screening and inspection. Only by ensuring that the raw materials have no quality problems, can production be arranged. Our factory has professional craftsmen, they are very serious about the polishing of sculptures and will perform 360-degree polishing.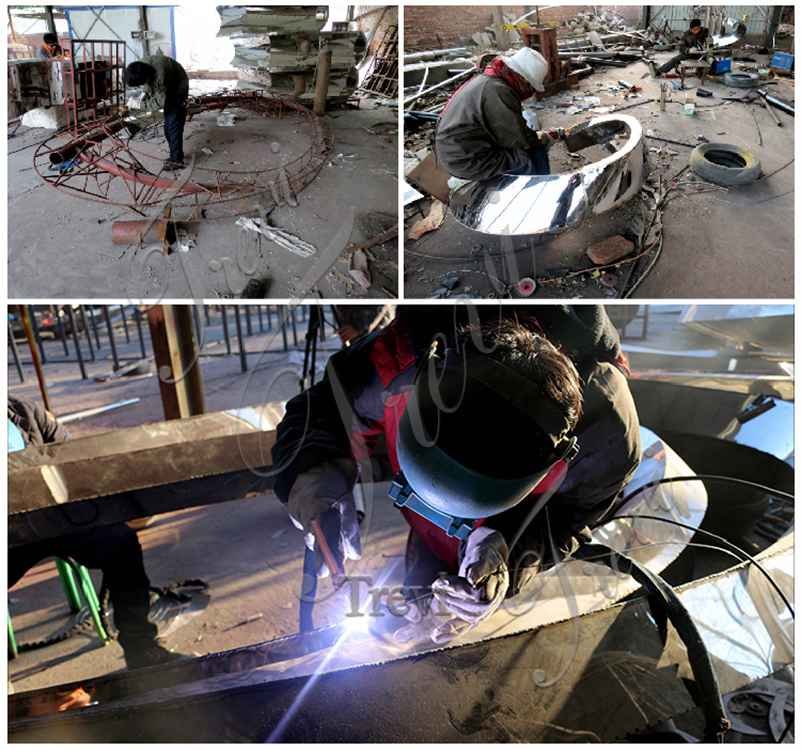 Why Choose Abstract Metal Sculpture?
Following the continuous development of society, public art has become an indispensable part of the urban environment and decoration. Not only can it bring a different color to the surrounding environment of the city, as an iconic landmark. It can also attract the attention of people and tourists, and indirectly promote the development of the city. Therefore, large metal sculptures conform to the theme of contemporary urban development and design and are very suitable for public park decoration.
Why Choose Trevi Art Gallery?
After more than 35 years of development, Trevi Art Gallery has been accumulating and learning in the sculpture industry and has become one of the most professional stainless steel sculpture factories. Our factory is located in the beautiful town of carving, Quyang County, north of Beijing. We export stainless steel sculptures all over the world and cooperate with many large customers. Our carving craftsmanship, professionalism, and service have produced high-quality sculpture art for customers.
If you are looking for beautiful decorations for the outdoor public parks, large gardens, city streets, office buildings, or gardens in your own house. Our abstract large metal sculpture is your best choice. Of course, you can also click here to learn about other designs.
So please feel free to contact us for detailed information and price, we will offer you the biggest discount today.