Large Outdoor Metal Rose Sculpture Modern Garden Design for Sale CSS-748
This large modern rose outdoor sculpture was ordered by a customer from the U.S. It was placed next to the fence in front of the customer's door and attracted the attention and love of many passers-by. If you are interested in this sculpture, please contact us for purchase.
Item No: CSS-748
Material: 304/316/316L Stainless Steel Material
Type: Modern Garden Sculpture
Service: Customized Service
Advantage: Factory Direct
Package: Strong Wooden Case
Insurance: Cover all the risks
Send Messages
Get price
---
Details of Modern Outdoor Sculpture
This beautiful large modern outdoor rose sculpture for sale was carefully cast by top artists of the Trevi factory. Its shape is a lot of bright and eye-catching roses, this stainless steel rose sculpture is mainly divided into two parts, the design is inspired by real roses. The flower part has been carefully colored to present a bright red, while the flower branch part is used a mirror polishing treatment, showing a very shiny effect. The sculpture as a whole looks full of art and ornamental. Who does not want to have a beautiful rose sculpture?
Professional Stainless Steel Surface Treatment Technology
Trevi is a professional stainless steel sculpture supplier, our factory is very experienced in shaping stainless steel sculptures. So far, Trevi's artists have mastered a variety of professional stainless steel sculpture surface treatment techniques, including high polish, matte, brushed, painting, and coated plating. We generally choose the most suitable sculpture surface treatment according to the specific needs of the sculpture, to make the sculpture present the most perfect artistic effect. This shiny large stainless steel modern rose sculpture uses a combination of mirror polishing and painting, which gives the sculpture a perfect artistic effect.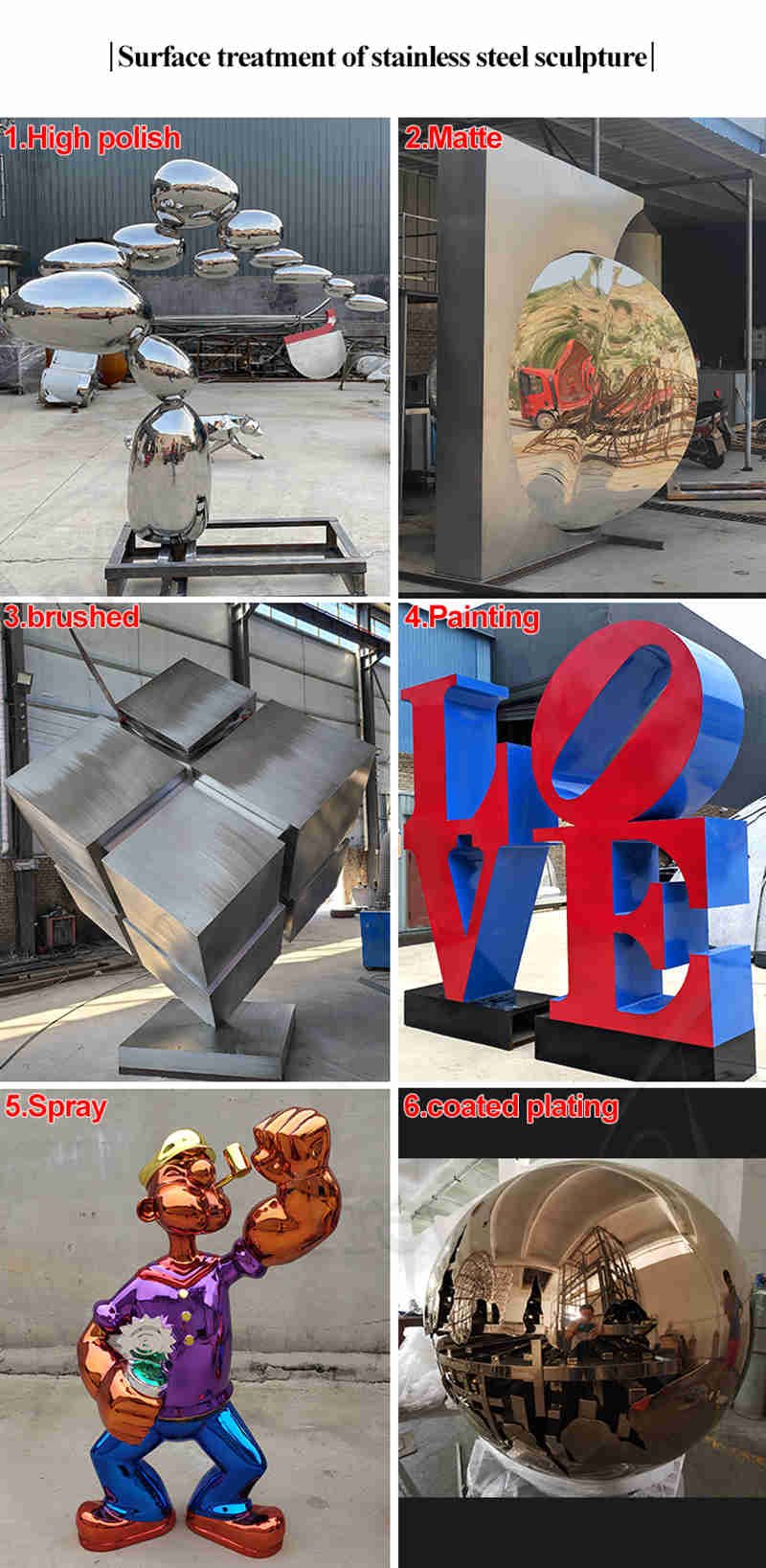 Stainless Steel Sculpture Welding Technology
Trevi's stainless steel sculptures are professionally welded by our top masters. First, they cut the required stainless steel plates, and then laminate and weld them according to the constructed skeleton. After the rough shape is put together, the surface of the sculpture will have many welding marks. Then our professional polishing artists will patiently polish and polish the surface of the sculpture until the weld marks disappear. Finally, Trevi's polishing artist will highly polish the surface of the sculpture until the surface has a mirror-like effect.
Customized Services For Metal Garden Sculptures
Trevi's greatest strength is our ability to provide our customers with professional customization services for their sculptures. On the one hand, Trevi's modern large stainless steel is very popular and we have produced many styles and shapes for our customers to choose from. You can also choose the color, style, size, and material of the sculpture by yourself. On the other hand, Trevi has cooperated with many internationally renowned artists and we can produce their sculptures on your behalf. If you have a piece you like, please provide Trevi with a drawing and we will make the best replica of the sculpture for you.
Trevi is a trusted supplier of stainless steel sculptures, if you are interested in our sculptures, please contact us for more information and we will apply a discount for you and look forward to your purchase.