Modern Polished Large Outdoor Metal Sculptures for Sale for Shopping Mall CSS-206
High polished large outdoor metal sculpture for sale, this is a modern sculpture decoration design with abstract art form. Our sculptures can be used as outdoor garden decoration, landscape decoration, hotel decoration or other outdoor decoration.
Item No: CSS-206
The Size: Custom size You Want
Material: 304/316 Stainless Steel
Style: Contemporary modern art
Service 1: Customized Service
Service 2: Trade Assurance
Application: Square/Hotel/Villa/Garden
Send Messages
Get price
---
Large Outdoor Metal Sculptures for Sale:
High polished large outdoor metal sculpture for sale, this is a modern sculpture decoration design with abstract art form. The sculpture is an abstract and closed ring, like a heart. The bright and shiny appearance can become a beautiful landscape outdoors.
This modern large outdoor metal sculpture is made of 304 stainless steel. The stainless steel material has a high gloss, and the carved surface can be designed into a mirror effect, which is very beautiful. Our sculptures can be used as outdoor garden decoration, landscape decoration, resort decoration, hotel decoration, or other outdoor decoration.
Choose Trevi, Offers Comprehensive Guaranteed Service:
High-quality Assurance:
Our team has many years of experience in the field of stainless steel sculpture, so our sculptors have rich experience in carving and making. So if you find some questions about this large outdoor metal sculpture after you receive it, please feel free to contact us. We will provide you with a solution as soon as possible. Of course, we can also provide you with suggestions on the installation and maintenance of the sculpture, which may be of great help to you.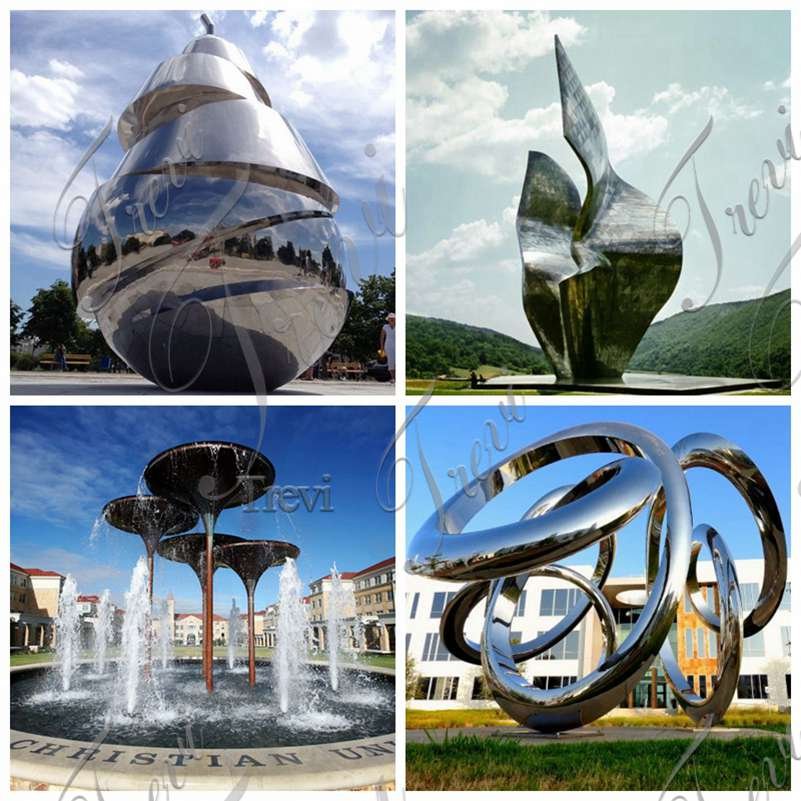 Perfect Service System:
We hope that your shopping experience at Trevi Art Gallery is as enjoyable as possible. Therefore, we provide free online consultation services throughout the day. If our staff does not respond to your news in time, you could leave a message on our website. Our staff would send you an email when they see it quickly. If you see the sculpture you like, please don't hesitate and doubt the quality of our products.
Do you want to design a modern art polished large outdoor metal sculptures like this? We can definitely provide you with sculpture products that exceed your expectations. Please do not hesitate to contact us at any time to get detailed information about the product. And Trevi Art will provide you with the best price and highest quality sculpture product.