Metal Fountain Outdoor Water Feature for Sale CSS-835
This outdoor metal fountain is for hot sale, it could weld 304 or 316 stainless steel material in the Trevi sculpture.
Item No: CSS-835
Material: 304/316/316L Stainless Steel Material
Type: Stainless Steel Water Feature Sculpture
Service: Customized Service
Advantage: Factory Direct
Package: Strong Wooden Case
Insurance: Cover all the risks
Send Messages
Get price
---
Details of Metal Fountain
This outdoor metal fountain is now for hot sale among our customers. its shape is a mirror stainless steel sphere, its base can be made of various materials, such as marble and stainless steel materials. Its most special design is that it can be used as a water feature to decorate our garden or interior. The surface of this stainless steel ball is a high polish effect that can reflect the surrounding scenery and look very beautiful. If you install this stainless steel water fountain sculpture in your home, it will surely add more coolness and fun to your home.
304 and 316 Stainless Steel Material
Trevi's stainless steel water fountain sculptures are widely welcomed by customers, especially in this hot summer season when there is a greater demand for water sculptures. The outdoor stainless steel fountain made by our factory is made of the best quality 304 and 316 stainless steel sculpture, which has a great quality advantage. On the one hand, these two materials can be well resistant to high temperature and rust, so they can be placed in the outdoor environment for a long time and not be damaged. On the other hand, the surface of this material is smooth and easy to clean, which is very convenient for later maintenance.
Stainless Steel Surface Treatment
This kind of mirror surface stainless steel sculpture is the effect produced by our artists after high polishing treatment. Trevi's artists have more than ten years of experience and are very professional in the treatment of stainless steel sculptures. In addition to high polished finishes, we have a variety of surface treatments including matte, brushed, painting, spray, and coated plating surface treatments.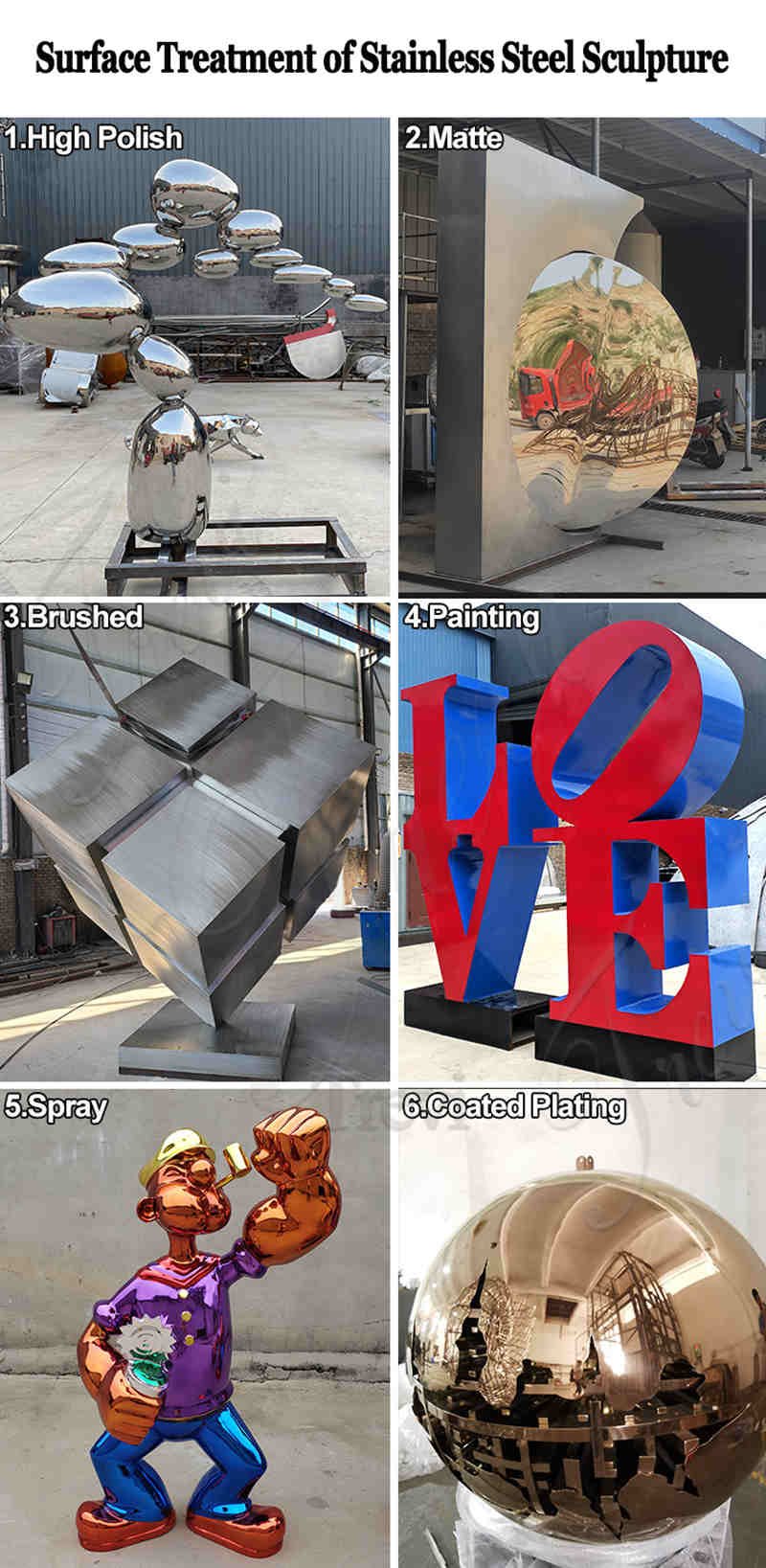 More Options for Stainless Steel Fountains
This outdoor metal water fountain was designed and fabricated by Trevi's artists and is perfect for garden decor. If you are interested in our metal water fountain, please feel free to contact us to order, it's our factory's anniversary recently and there are great discounts on many items.
Don't miss this discount, our metal sculptures are of high quality and beautiful shapes. the Trevi team is ready to serve you.