Mirror-like Metal Bear Sculpture Modern Art Supplier CSS-798
This metal bear sculpture is a new design by our top artists in our factory. It is a very interesting design made up of numerous small square slices welded together. Please contact us if you like it.
Item No: CSS-798
Material: 304/316/316L Stainless Steel
Type: Metal Animal Sculpture
Service: Customized Service
Advantage: Factory Direct
Package: Strong Wooden Case
Insurance: Cover all the risks
Send Messages
Get price
---
Details of Metal Bear Sculpture
This metal bear sculpture is made of high-quality welded stainless steel. Unlike our common mirrored stainless steel sculptures, the surface of this sculpture is made up of countless small square pieces of steel, and each area is highly polished to give the sculpture an overall shiny mirror-like appearance. It is even more like a giant mosaic, but with the difference that it could reflect all the surrounding scenery, perfectly hidden from the outside environment.
Is Stainless Steel Good for Statue?
In modern sculpture art, stainless steel sculpture is gradually occupying a place and becoming a popular sculpture category. There is no doubt that stainless steel is very suitable as a raw material for sculpture.
On the one hand, stainless steel is popular with sculptors for its versatile shapes. They could make good use of stainless steel to implement their imagination into any sculptural work of art.
On the other hand, stainless steel sculptures are sustainable. The high-quality stainless steel material is resistant to corrosion by air and water, enabling the sculpture to adapt to a variety of outdoor environments. Stainless steel sculptures have a long life span and are very easy to clean, making them a common decorative piece in many public art projects.
Processing of Stainless Steel Sculptures
Generally speaking, Trevi factory uses a welding process to weld the machined stainless steel sheets together. The stainless steel, however, has great strength and resistance to machining and could withstand any welding and polishing. In the case of this geometric mirror stainless steel bear sculpture made in our factory, for example, our top masters welded numerous small-sized plates together and ensured that the shape was restored and the surface was polished. The resulting sculpture is highly ornamental. Of course, you could also choose a rougher surface or a polished surface for the stainless steel itself. Our factory accepts custom-made services in any direction.
More Choice for Stainless Steel Animal Sculpture
Our factory is a very large supplier of sculptures and we export countless sculptures to countries all over the world. If you would like to see more of our excellent sculptures, we could offer you a wider selection of designs. We could produce sculptures in almost any material, shape, and color. If you are interested in this type of abstract mirror stainless steel sculpture, please contact us for more drawings and we are sure you would find a sculpture you like at Trevi.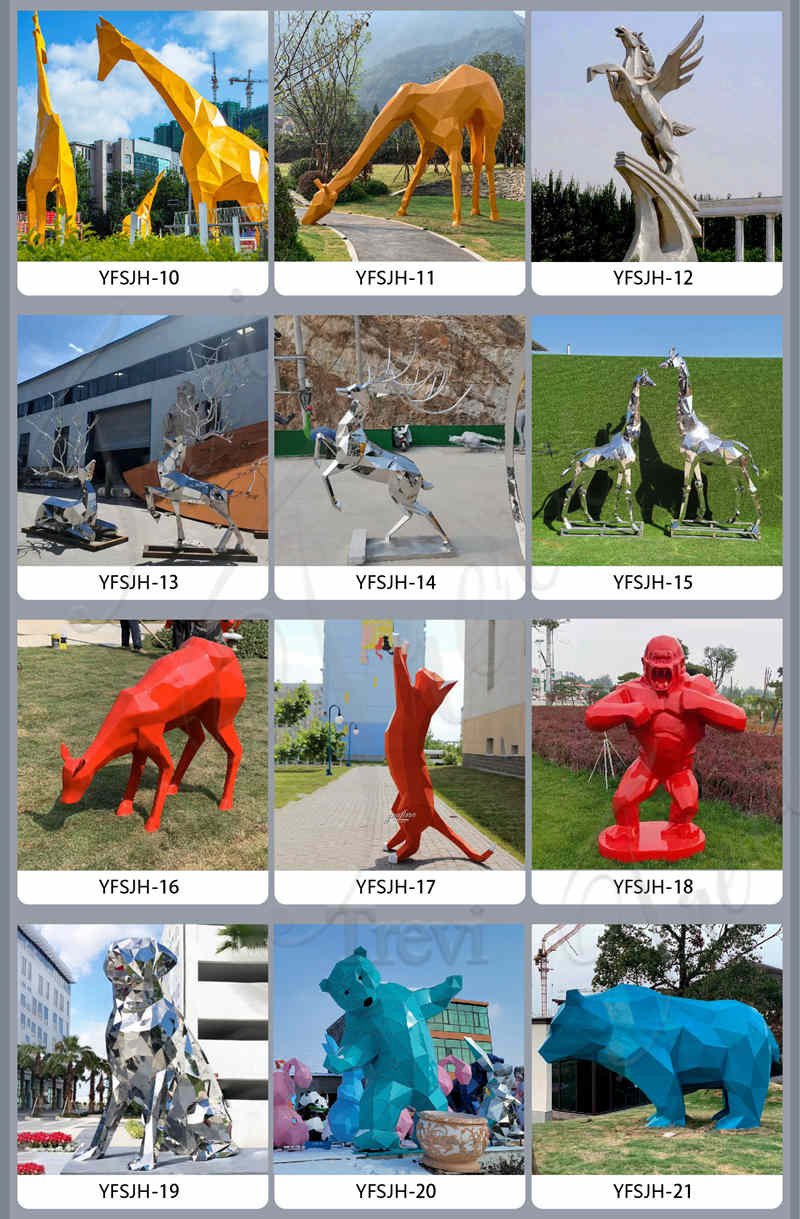 Trevi is a trusted supplier of sculptures and we would provide you with excellent service as well as high-quality sculptural products. Please feel free to contact us for a consultation.