Mirror-like Metal Ballerina Sculpture Modern Design Supplier CSS-810
This ballerina sculpture is welded by our factory top artists, it is a beautiful stainless steel artwork, suitable for displaying at home or outdoor as decoration. Please contact us for more details.
Item No: CSS-810
Material: 304/316/316L Stainless Steel
Type: Mirror-like Sculpture
Service: Customized Service
Advantage: Factory Direct
Package: Strong Wooden Case
Insurance: Cover all the risks
Send Messages
Get price
---
Introduction of Metal Ballerina Sculpture
This metal ballerina sculpture we made is a modern decorative piece made in our factory. This girl is dancing an elegant ballet, her body looks very light and her physique is very elegant. The dancer is intoxicated by her dance movements and we welded the sculpture in a moon-shaped circle, the design looks very harmonious. After our top masters polished it, the sculpture became very beautiful.
Professional Stainless Steel Welding Technology
Our stainless steel sculptures are made by the most professional welding artists. This stainless steel ballerina sculpture presents a mirror effect. Our top masters first welded the stainless steel plate according to the shape of the skeleton. Next, our artists polished the surface of the sculpture to make the weld marks disappear. Finally, after high polishing, the surface of the sculpture becomes very shiny. The sculpture has a mirror effect and shines very brightly in the sunlight.
High-Quality Stainless Steel Material
Our stainless steel sculptures are made of 304 and 316 stainless steel, which are commonly used in modern sculpture making. This material has many advantages. First of all, these two materials have very good processing performance, according to the production needs of any change in shape. Secondly, they are resistant to corrosion and high temperature, so they can be stored in the outdoor environment for a long time. You can choose the right stainless steel material according to your environmental needs.
More Choices for Metal Sculptures
Our factory's stainless steel figure sculptures are very popular and we have made and exported countless pieces of stainless steel figure sculptures. In addition to this ballerina sculpture, we have many other ballerina sculptures in other shapes and materials. In addition, we have made many kinds of classic stainless steel figure sculptures for our customers, and if you want to know more about the designs, we will show you photos and videos.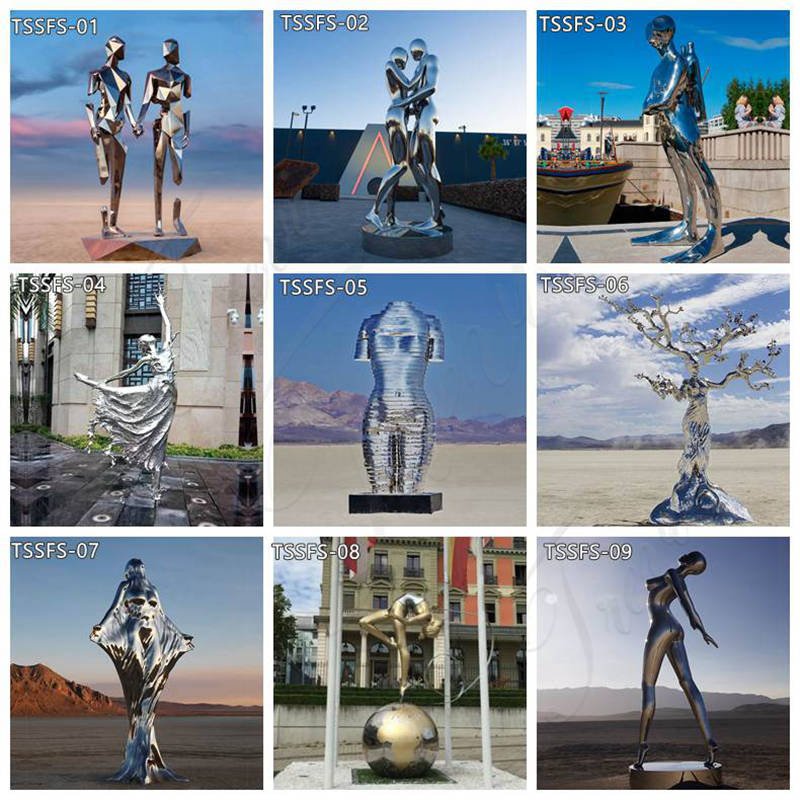 Trevi is a professional stainless steel sculpture supplier, our sculptures are of high quality and our service is very comprehensive. If you have any needs, please contact us for consultation, we are always ready to serve you.